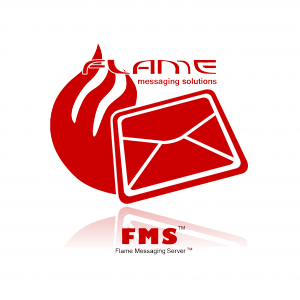 Secure and reliable integrated messaging has become essential for the successful operation of enterprises and organisations. Reliable communication of messages such as invoices, statements, student and employee records, agreements, contracts, medical claims, domain registrations etc. between partners such as banks, industry, government organisations, academic institutions such as schools and universities, and pharmacies, doctors and medical aid administrators and domain registries and registrars is no longer feasible using traditional methods such as post, fax and email as these simply do not provide the reliability, security and speed demanded.
The Flame Message Server (FMS) is a powerful standards based multi-protocol secure business message server providing the middleware for communicating business messages over industry standard protocols conforming to the ebXML (Electronic Business using eXtensible Markup Language) V3.0, AS4, RosettaNet RNIF 2 and the EPP IETF STD69 specifications.
FMS provides the critical middleware gateway and client side infrastructure for the the implementation of Service Oriented Architectures (SOA) between heterogeneous business processes including B2B gateway and client solutions for the European Digital Single Market e-SENS initiative, the single European market for gas ENTSOG initiative, the Australian SuperStream and e-Invoicing initiatives, Digital Post solutions, Electronic Invoicing and Domain Registration solutions.